PRODUCT CARE AND CLEANING
When you make yourself or others happy with beautiful, new bar accessories, you want them to last long. Bar tools are made from a wide variety of materials and sometimes require more or less special care. In terms of economic efficiency, this is particularly important for professional use, but it also applies to smaller companies and private households. Frequent use is automatically accompanied by an increase in cleaning cycles and more wear. We would therefore like to give you the most important basics for the care of the most common materials in our shop, so that you can enjoy your purchases for as long as possible!
Glassware
To start with, we would like to turn to one of the most important, but also the most fragile and therefore most care-requiring materials: glass! Almost no gastronomic business can do without an adequate supply of glassware. Especially when it comes to business in a commercial context, a sufficient range of drinking glasses is an investment that should ultimately pay off as much as possible. This means that glass care should be at the top of your list in terms of successful business management, because it is important to keep wear and tear and unwanted losses as low as possible.
Cleaning in the dishwasher
Time is money – one of the most discussed topics is therefore the cleaning of glasses in the dishwasher. A large number of the glasses available from us are generally suitable for machine cleaning. Nevertheless, there are a few things to consider. Of course, not only broken glass should be avoided; scratched, dull or milky-cloudy glasses are also annoyances that you can prevent by following simple tips.
Dishwashing salt or regeneration salt serves to soften the water and is intended to prevent deposits of lime or lime soap. Rinse aid primarily improves the drying of the dishes. You should always provide your dishwasher with sufficient quantities of these essential additives – but that's not all. Most dishwashers can also be precisely adjusted to the degree of hardness of your water, and the supply of rinse aid can also be dosed (usually using a small wheel). These steps are important and yet often forgotten steps on the way to spot- and streak-free glasses.
Choosing the right dishwashing detergent is another important factor – it is important to adapt the selection to the requirements as far as possible.
Which glasses do NOT belong in the dishwasher?
When it comes to crystal glass and lead crystal, the camps are split – many of the glasses in our range have the green light from the manufacturer for cleaning in the dishwasher. Cleaning tabs and dishwasher salt can damage the surface of any glass, especially in the long run. You should also refrain from using dry dusters, as they can easily polish scratches into the surface! If in doubt, and if possible by hand, clean your good crystal glasses in warm soapy water. You should also use soft sponges and cloths.

Imprints and decorations: Whether the glasses are printed (usually using a screen printing process) or decorated with fine decals: In both cases, cleaning in the dishwasher should be avoided if possible! The alkaline environment and the detergents used can damage the decorations. Through repeated cleaning in the dishwasher, you risk the print fading or even peeling off in the long run. Instead, printed glasses should always be cleaned in warm, soapy water, using a sponge that is as gentle as possible. Ideally, make sure you use a gentle cleaning agent and never let the glasses soak for a long time!

Lacquered glass: The lacquering of glasses allows particularly chic designs with strong, opaque colors – however, handling these glasses in practice requires a little more care, as the subsequently applied layer of paint can easily be damaged. Even though some manufacturers have approved lacquered glasses for cleaning in the dishwasher, we would always advise our customers to gently clean them by hand. In addition, you should use all means to prevent friction and contact with sharp-edged objects.

Temperature shock / thermal shock resistance

When glass is exposed to a sudden change in temperature, this is also referred to as a thermal shock. The special structure of the glass can be affected if it expands or contracts too quickly due to extreme heat or cold. Every type of glass has a certain level of thermal shock resistance; however, abrupt temperature changes can lead to glass breakage, especially if repeated frequently. A temperature shock is also one of the main reasons for glass breakage in the dishwasher!
Therefore, never put your glasses in the oven, microwave, freezer, etc. - unless they are suitable for this purpose according to the manufacturer! We also recommend pre-warming glasses with warm water before serving hot drinks. Conversely, you should avoid pouring very cold water into warm or hot glasses. Even after rinsing, you should give your glasses enough time to cool down.
Special glasses for hot or cold drinks can usually be recognized by the fact that they are comparatively thick-walled and designed to be stable. You can find a selection of such glasses in our shop in the hot beverage glasses category. The same applies, of course, to your need for sundaes.
A few general suggestions to conclude:
The lower the temperature and the shorter the rinsing time, the lower is the risk of something being damaged during cleaning in the dishwasher. In the truest sense, an important point is the correct loading of the machine with glasses; these should be stable and easily accessible for water and cleaning agents. However, the risk of tipping over or rubbing against other objects should be minimized to avoid scratches or cracks. We would also advise taking the glasses out of the machine as quickly as possible after the wash cycle and drying them, or if you don't have time, at least tilting the dishwasher flap so that the steam can escape - otherwise this can damage the surfaces of your glasses in the long term.
When storing glasses, care should also be taken to ensure that there is as little contact with the glass as possible. For space-saving storage, we also have a number of stackable glasses in our shop. We would recommend all restaurateurs to use glass transport crates and rinsing baskets for transporting and washing larger quantities of glasses!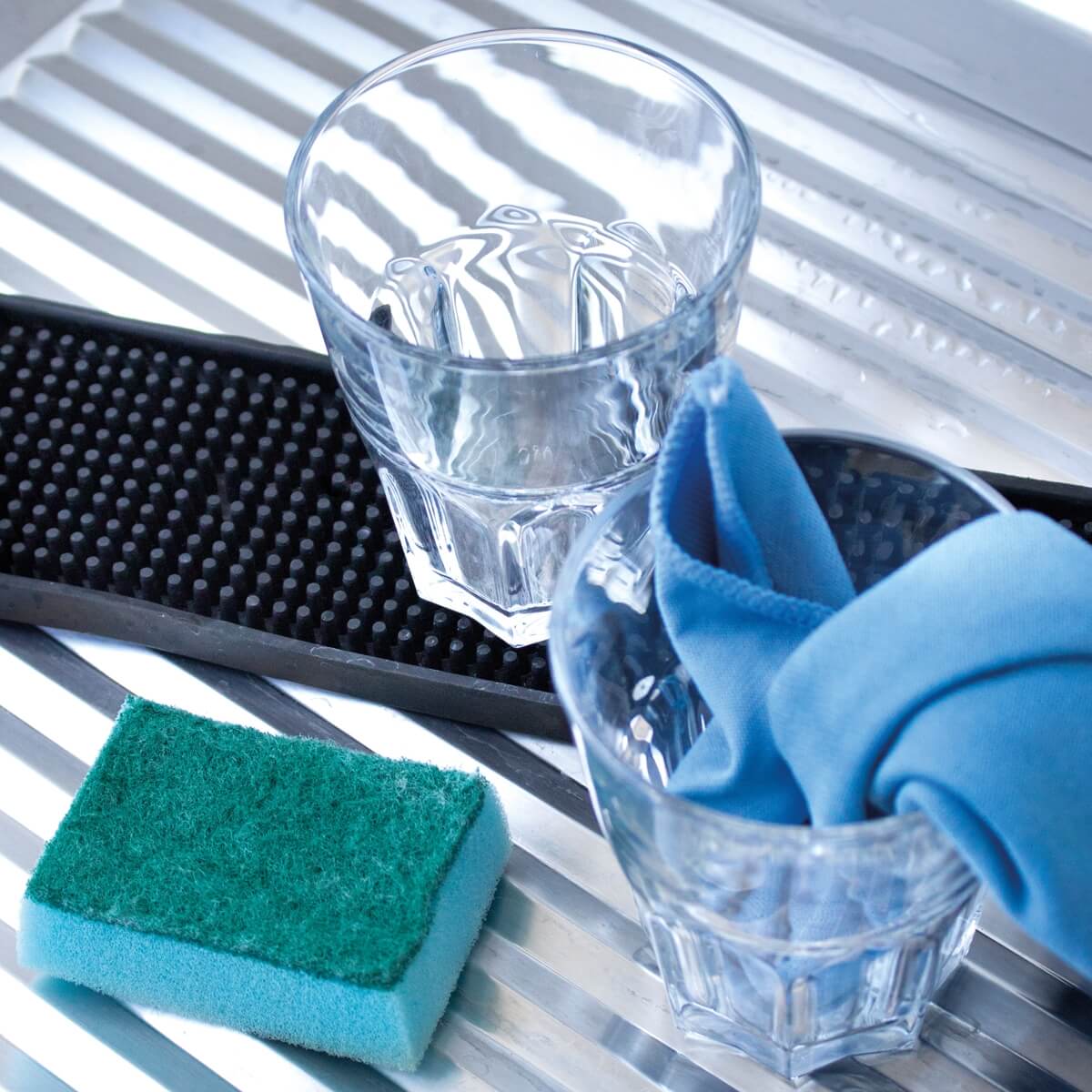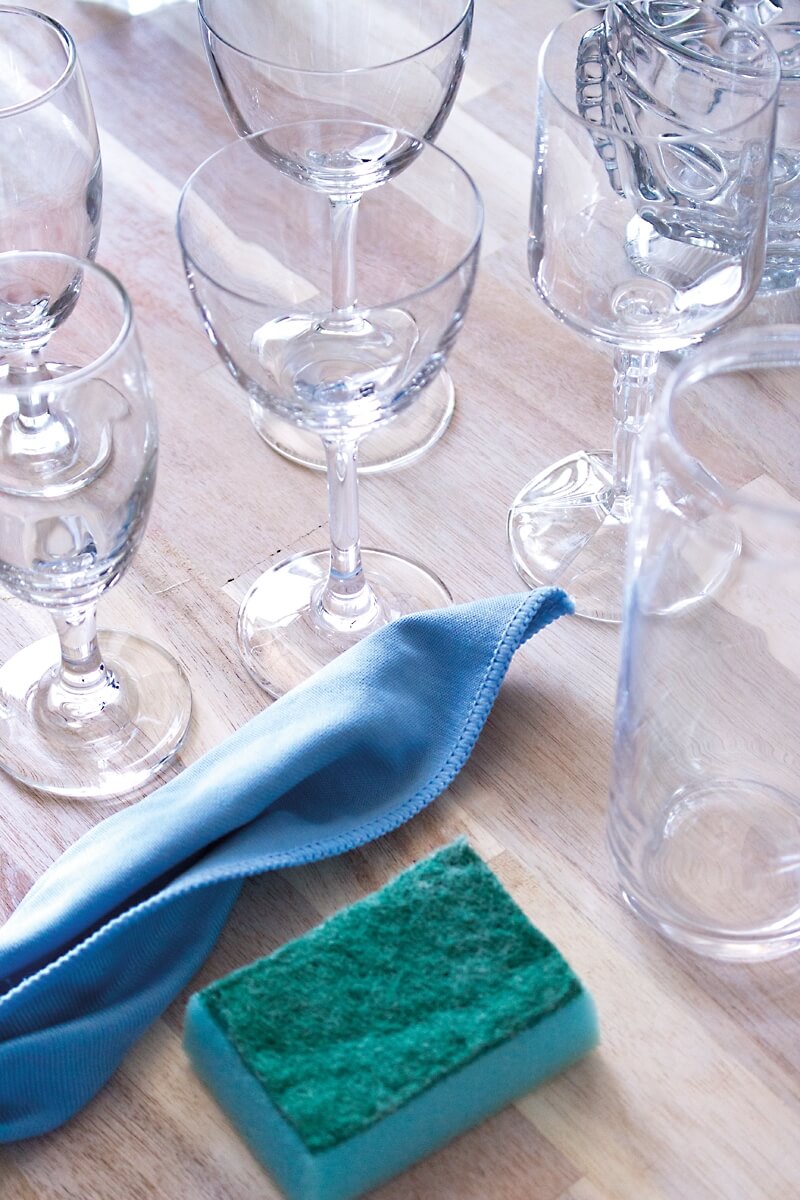 Plastics
The numerous different plastics that are used in the bar context include many different chemical compounds with their own characteristic properties. We have compiled the most important ones for you below:
Silicone
Silicone is flexible and also has a high thermal resistance of up to +180°C. This material, which is popular in the bar context, is therefore generally suitable for cleaning in the dishwasher. In order to avoid being drawn into the silicone, you can also rinse off stubborn dirt, e.g. from fats or oils, with lukewarm water in between. If necessary, use commercially available soap, but never use chemical cleaners or thinners! Even if the silicone comes into contact with chlorinated or salty water, you should then rinse it off with clear water. And another important tip for practice: hand creams and lotions can also damage silicone in the long term.
Acrylic
Acrylic comes in various forms (e.g. PMMA or acrylic glass). These are characterized, among other things, by their clarity and good surface hardness. Although acrylic can sometimes withstand higher temperatures, you should avoid heating it above 50°C and cleaning it in the dishwasher. In the case of light soiling, gentle cleaning with a damp cloth is usually sufficient. However, for heavier, especially greasy dirt, you should definitely use a mild cleaning agent (without scouring agents!). Attention: Many cleaning agents contain benzene, ethanol, alcohol, organic substances or thinners that attack the PMMA plastic!
Melamine
Melamine is hard, impact-resistant and acid-resistant. Products made of melamine can usually be put in the dishwasher without hesitation. However, a maximum temperature of about 70°C should not be exceeded. Low pH citrus based detergents are the right choice. You should urgently refrain from using chlorine-based dishwasher detergents or additives as well as scouring agents or sponges.
Polycarbonate
Polycarbonates are extremely resistant - almost unbreakable - plastics. But even such impact-resistant materials have their Achilles heel: Despite a maximum usage temperature of over 100°C, they are NOT suitable for heating in the microwave and are suitable for cleaning in the dishwasher to a limited extent – the latter causes the material to become dull over time. For polycarbonate, we recommend hand cleaning with a damp cloth and mild detergent. Do not use scouring agents or hard sponges here either!
Polyethylene
Polyethylene is also characterized by its high impact strength. Although this fabric is dishwasher safe, unlike PC, polyethylene softens from temperatures of 80°-95°C and is therefore not suitable for use at high temperatures. In addition, PE (like polycarbonate, by the way) is sensitive to certain wavelengths of UV light; an excess of direct sunlight can therefore make these two materials brittle and / or yellow! With regard to sponges and cleaners, the same rules apply as for PCs.
Polypropylene
Polypropylene largely resembles polyethylene in its properties. However, it has the edge in terms of hardness and heat resistance. Polypropylene is also very impact-resistant and sufficiently dimensionally stable even in boiling water. Therefore, nothing stands in the way of cleaning in the dishwasher – at a recommended maximum temperature of 80°C.
Styrene Acrylonitrile Copolymer (SAN)
This family of copolymers is made from the two substances styrene and acrylonitrile and is characterized by good surface hardness and thermal shock resistance. However, the maximum temperature of 80°C should not be exceeded. In addition, SAN is only dishwasher-safe to a limited extend, since this material can become dull or develop cracks over time. Here, too, you should work with mild cleaning agents!
Vinyl / Soft PVC / Rubber
Our bar mats, floor mats and some other products (including e.g. vinyl-covered shakers or speed openers) are made from a variety of soft plastics. These should NOT be cleaned in the dishwasher as they can suffer structural damage and deformation! Instead, you should prefer mild detergent and gentle hand cleaning.
Detergent for Plastic Barware
As you may have noticed, choosing the right cleaning product is of particular importance when it comes to plastic bar tools. Cleaners that are as gentle as possible can extend the life expectancy of your treasures!
Plastics containing BPA
Bisphenol A or BPA is a chemical substance that plays a major role in the manufacture of polymer plastics (including, for example, PC and PVC). In recent years, BPA has been the focus of various health-related studies, because the manufactured items are often intended for contact with food and beverages and various factors (e.g. heat and contact with acids and / or alkalis) have been shown to promote the release of bisphenol A from these products.
In 2011, its use to make baby bottles was banned. The European Food Safety Authority concluded in 2015 that exposure to BPA from various sources poses no health risk to any age group. The EU has also declared its use in (dental) medicine to be largely harmless.
Nevertheless, many manufacturers are now avoiding the use of BPA. You will also find BPA free options in our shop. Products containing BPA should be used with certain precautions: if possible not overheating; wash thoroughly before use.
Plastics with Imprints
For printed plastics, a combination of the care instructions for printed glasses and plastic barware applies: mild cleaning agents, no long soaking and gentle hand cleaning are the rules for long-term enjoyment of printed plastic cups and glasses!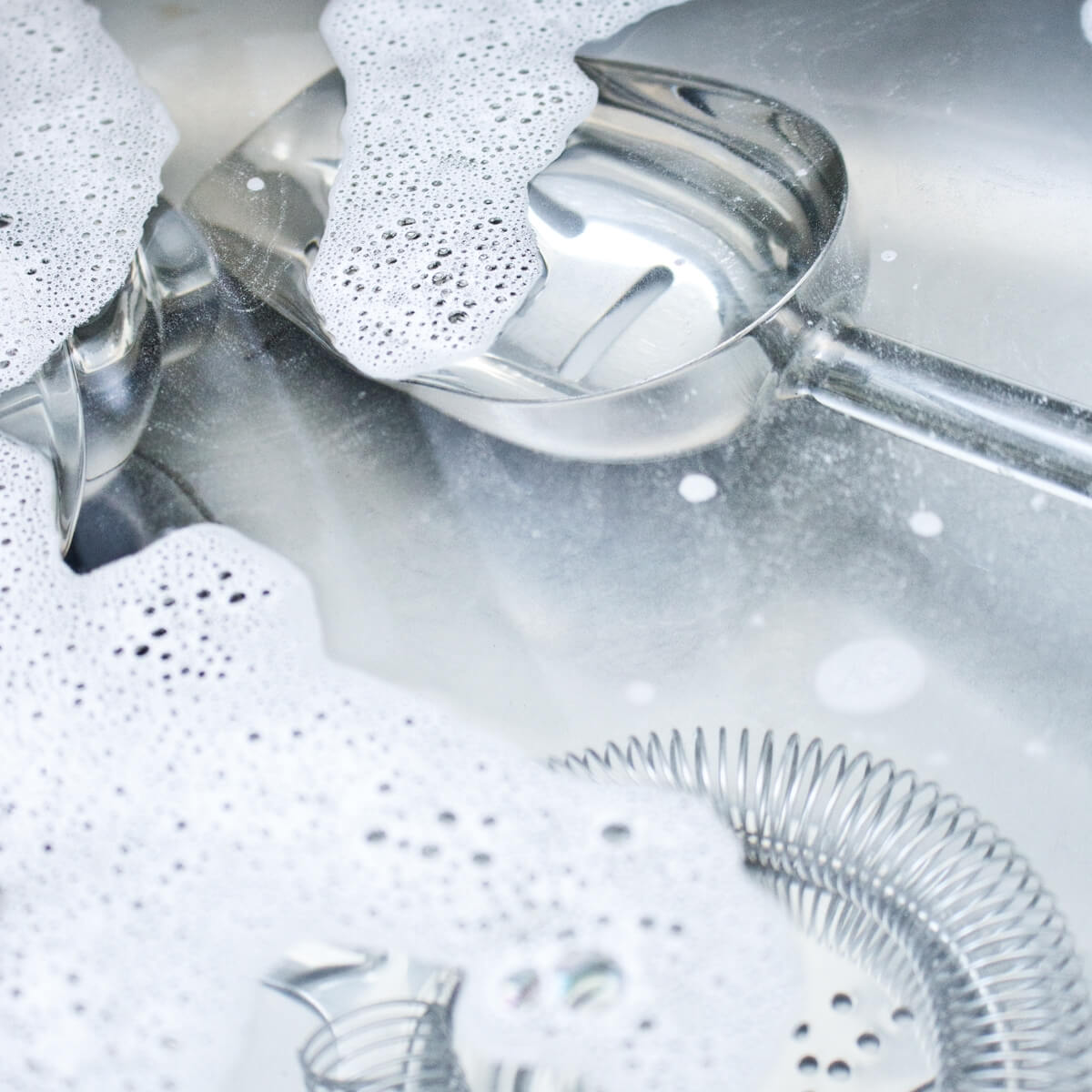 Metal


Steel
Steel is one of the most common industrial materials and consists mostly of iron (>50%). Non-coated steel bar tools are dishwasher safe. However, mechanical cleaning and careless use can lead to scratches and signs of wear. Careful handling and gentle cleaning are therefore the most important things when caring for steel products. We recommend cleaning in warm soapy water with soft cloths and sponges whenever possible.
Blued steel (black / blue sheet)
Blued or scale-coated steel tends to be durable and acid-resistant if properly cared for. However, it is imperative not to damage the coating and to avoid thermal shocks, which is why cleaning in the dishwasher is not allowed!
Stainless Steel (e.g. chromium steel, chromium-nickel steel ...)
Only alloyed and unalloyed steels with a special degree of purity may be designated as stainless steel. These are characterized by their good chemical resistance – including resistance to corrosion. However, when in contact with salts or acids, the corrosion resistance suffers. In addition, overheating can lead to (harmless) discoloration, and stainless steel bar tools should not be exposed to thermal shock either! Cleaning in the dishwasher, on the other hand, is not a problem. When cleaning by hand, you should never use steel wool.
Coated metals
Even if the coating is perfectly applied to the metal, it must still be considered as a separate part. Therefore, when handling coated bar tools, particular care is required to avoid damaging or even scratching the surface. Cleaning in the dishwasher is not allowed for these products – the same applies to painted/lacquered steel barware, by the way! Instead, you should always work with soapy water and gentle cleaning agents.
Chrome (coating)
Chrome is a base metal, which is mostly used as a coating for bar tools. It is not acid resistant and damage favors its oxidation. Chrome bar tools are therefore not dishwasher-safe and should only be cleaned by hand and without abrasives!
Silver Plated Bar Tools
Bar tools coated with silver should always be washed by hand. Almost the same rules apply: do not use scouring agents and hard sponges, as they can damage the coating. Our recommendation is also to use warm, but not too hot water. Temperatures that are too high can damage any surface treatment!
Aluminum
Aluminum – whether in its pure form or as a coating – is known to be a durable material. Nevertheless, products made of or with aluminum are NOT suitable for cleaning in the dishwasher! This can lead to discoloration from cleaning agents. In order not to destroy the oxidation layer, you should work with nylon sponges and mild detergents when cleaning aluminum bar tools. Aluminum is also more salt-resistant than stainless steel, but only conditionally acid-resistant!

About the term 'rustproof'
Admittedly, the term 'stainless' is somewhat misleading. It is used for particularly corrosion- and acid-resistant types of steel. It does not mean, however, that these cannot rust under any circumstances! Excessive contact with acid, for example, can lead to rusting even on products that are declared as such. With normal humidity and good care, however, they have a greatly increased durability. It is particularly important to dry your bar tools well after cleaning and store them in a dry place!

Natural Fabrics

Wood
First of all, we would like to emphasize that wood as a natural material, varies greatly in appearance from case to case and is also subjected to various surface treatments (lacquered, oiled, natural...). Wood is basically NOT suitable for cleaning in the dishwasher. Wooden bar tools should be dried well after gentle, ideally immediate hand cleaning and then stored in a dry place. Also, never leave wooden bar tools in water for too long! Unpainted bar tools have the same Achilles heel as, for example, wooden chopping boards: Liquids can soak in and leave traces of color and taste! Always keep this in mind when choosing your bar tools.
Cork (spout, stopper)
Cork is particularly well known for its use as a bottle cork; in the bar context, for example, it is used as a stopper for dash bottles. Similar precautionary measures apply to cork as to wood: Cork should be gently cleaned (damp cloth and/or warm water; no aggressive detergents) and dried as soon as possible after use. Avoid soaking for a longer period of time! In addition, cork is a porous material and can crumble over time, which is why even more care is required here than with wooden bar tools. Cleaning in the dishwasher is also out of the question here.
Cotton
Depending on the composition / combination with other materials, you can generally wash cotton items in the washing machine, observing the usual care instructions (temperature, tumble dry resistance, etc.). You can treat stubborn marks in towels or work clothing with the usual home remedies such as gall soap, benzine, etc. – but make sure that they are well tolerated and always exercise caution!
That brings us to the end of our list. If you have any questions or need further information, please feel free to contact us!